Tripy RoadMaster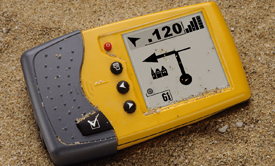 The RoadMaster is a GPS-receiver specially designed for mototcyclists. Its two main functions are to read and record Road Books. It is not a conventional GPS navigation system because it does not suggest you a route to follow based upon on-board map material. With the RoadMaster you enjoy the freedom to ride exciting trips away from the mainroads and other busy areas. Even in off-roads.
GPS-technology tailored to motorcyclists
RoadMaster permanently knows your position, your direction, your speed and your altitude

RoadMaster counts down for you the remaining distance towards the next dot-arrow symbol (way point) of the road book, a gas station, a point of interest

If you leave the normal course of the road book – deliberately or not - RoadMaster brings you back on track by compas on either the way point you were heading to or whatever way point you can select

You can record very accurately your GPS-track, whatever your position is, also in the middle of the desert.

Warning when the system detects that you have been approaching a radar speed control that is listed in its memory
Why would you go for the RoadMaster ?
For the simplicity of its mounting. You need only 5 minutes to fix it on your motorcycle. No wiring necessary.

For its ease of use

To discover exciting trips created by motorcycle professionals

For its cristal clear display making it legible in all circumstances, including for people wearing glasses

For its contribution to your passive security, because it requires less attention

For the ergonomy of its simple keyboard: only 5 large buttons left hand that are compatible with throttle control and remain sensitive even with winter gloves

For its storage capacity of 15.000 km (10.000 miles)

To be able to create your own road books and to share them with others

For its resistant construction making it suitable for off-road use

For its protection level IP67 that makes it waterproof under 1m water for 30 minutes

For its battery autonomy of more than 30 hours

For the enjoyment to follow an unknown route while being able to maintain a good driving tempo
| | | |
| --- | --- | --- |
| | | |
| Equipment | Software | Website |